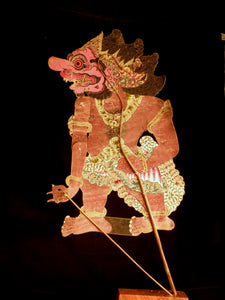 Bathara Kala, (Javanese Betoro Kolo) also called Raksaksa

The Raksaksa are forest demons.
Born as a ball of fire from the seed of Bathara Guru, Bathara Kala turned into a raging giant who threatened to destroy heaven unless he was acknowledged as Bathara Guru's son.
His eye is round and wide open (Pelengan), his mouth open (gusen) showing his fearsome teeth. His nose is large and bulbous (pelokan). His hand is clenched with two fingers protruding like the horn of a bull. The red face and aggressive stance indicate his fearsome nature.
This puppet is from the Paku Alam family in Jogyakarta whose dalang collection we bought in the '80s.and is very old.