How to navigate these pages
eFor us art is not just one thing, it is everything. So Veronica is passionate about beads, Christopher about wood, and both of us about the immense variety and cultural significance of Indonesian art
Click on the collection that interests you and explore. For instance, if you are interested in antique beads, go to the Historic bead collection and type antique bead into the filter.
We also have musings on art, art history and our collections. Because there is so much to see and read there is a filter through which you can refine your search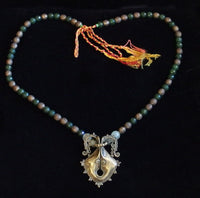 Catalogue 10. Mamuli centerpiec with old glass and bronze beads
The Mamuli centerpiece is old brass from Sumba You can read more about Mamuli in Musings. The faceted green glass beads are European, probably 1930's. The bronze beads are also old but we cannot put a date on them.
See in Historic Beads page