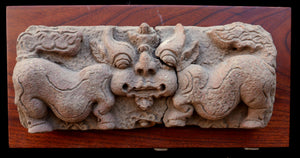 The brick/panel depicts a Kala head carved in low relief. The unusual aspect of this is that there is one head and twobodies. It would have been part of a lintel for a door or window ascanbe seen in many doors in Bali today.
Kala or Mahakala is found In candis (ancient temples) within Java built between the mid-seventh and the fifteenth centuries, a grim face of monster is watching intruders from above the doorway. This face of a monster known as "Kala's head" in Java, originated from Kirutimuka (Skt) found in temples in India
This is a very rare find. In excellent condition, the brick was found in two pieces and has been mounted on a cedar base.
40 cm x  16 cm